Autumn decoration ideas with natural resources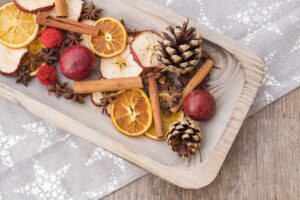 October has arrived and autumn has made its appearance. So, since the landscape has now taken on the colours of the autumn palette, it is time to add a warm touch to the decoration of our house! Of course, since a seasonal decoration won't stay in our space for a long time, it is not worth wasting a lot of energy and money for it. For this reason, in this article, we will present some ideas for a quick and handmade autumn decoration.
Autumn leaves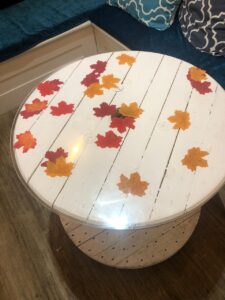 To begin with, a trademark of autumn is the yellow-orange leaves, which of course cannot be missing from our decor. These autumn leaves can be used in countless ways to upgrade the decoration of a space. So, a very simple way to decorate the living room or kitchen table, if they have removable glass, is to place dry leaves under it.
Autumn composition with candles
Also, for the decoration of the living room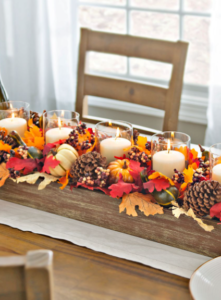 or any other surface is to make various small compositions with a natural object. For example, we can put some jars of candles between dry leaves. Another beautiful idea that reminds us of autumn, is a composition with dried fruits. The process is simple. We will need some fruits of our choice, such as apples, bananas or oranges. After cutting them into thin slices and soaking them in lemon juice, we need to leave them for an hour in the oven at 100 degrees. After removing the fruits from the oven, we can place them on a tray along with a few cinnamon sticks, a ribbon, and candles in earthy colours.
Jar with pinecones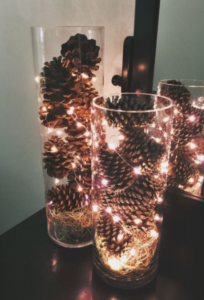 As we said, it is not worth wasting much time and money on a seasonal decoration. In any case, sometimes the simplest ideas can prove to be the most impressive. So, the next idea that we propose, is a very simple composition with pinecones. To implement this idea, we will need a vase, pinecones (depending on the size of the jar) and a set of fairy lights. So, in this simple way, a characteristic piece of autumn becomes part of the decoration of our house.
All these very simple materials can create many more decorative details if we just use our imagination.