The right equipment for nut stores

Every producer or owner of a nuts shop should know how to storage their products in the right way, in order to keep them fresh, while showing them up! Below you can find ideas and solutions for the perfect packaging of nuts, herbs, legumes and other food products in bulk.

Stand-Up Pouches (Doy Pack)
Stand-up Pouches (Doypack) are a pioneer in packaging, gaining more ground every day in every store. They are a must-have for storing and featuring your products.
Stand-up pouches are safe for food products, while keeping them fresh and preserving their aroma for a long time. These bags are made of aluminum, kraft or transparent plastic. They also contain a zip sealing, that makes them reusable. You may also use heat-sealing on them.
Concerning the packaging of coffee, there are stand-up pouches with a single flow valve, which takes all the air out of the bag, keeping the coffee fresh for a long period.
Finally, you can be assured with these stand-up pouches, as they give an excellent appearance in your products on the shelves of your store, increasing demand.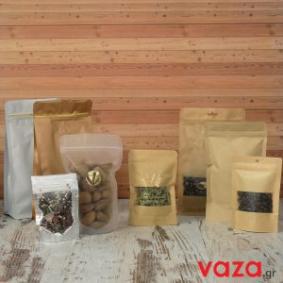 Kraft Bags with a window
Kraft bags are a necessary packaging option for every nut store. These bags are suitable for storing every food product in bulk, such as legumes, nuts, herbs, dried fruits etc.
You can choose a bag with a window in front, offering your clients a chance to know what is in the bag in the first look.

Glass jar for spices, powders and candy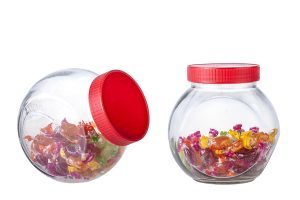 If you are still wondering how to organize the shelves of your shop with your products, a glass jar with a lid, which you can find in vaza.gr, is the solution. These jars are not only a storing solution but also a decoration for your store.