Smart ideas to decorate and equip your perfumery
In the past few years, the demand for perfumes in bulk has increased, as well as the competition between the perfumeries. But who will be the one that stands out?
Here you can find useful advice on how to equip and decorate your perfumery, in order to make a difference.
Perfume Bottles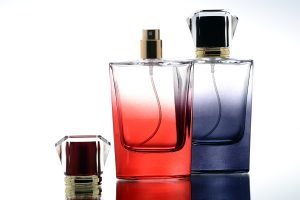 If you are a specialist in the field of fragrances, vaza.gr can be your true ally. Discover our wide range of perfume bottles in different dimensions and capacities, shapes and colors. Depending on the style of your business, you can choose among plastic, glass or crystal bottles. Furthermore, by combining these bottles with caps and sprays, you can choose to create a Crimp bottle or a reusable one.
Storing bottles, glass dispensers and filling systems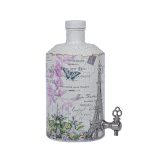 Your perfume's quality depends on the equipment you are using during the formulation. In vaza.gr you can find aluminum bottles for storing perfumes, as well as glass dispensers, ideal for the preservation of the product's fragrance. In addition, you can offer your clients a quick and efficient service, by equipping your store with our filling systems. Make your perfume's formulation easy and of high quality with our syringes, funnels and measuring tubes.
Decoration and grooming products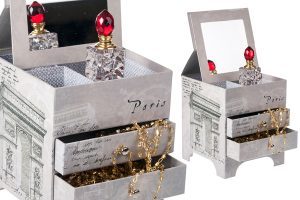 In vaza.gr you can combine products, creating unique choices for your clients, such as jewellery boxes with a mirror and drawers, ideal for decorating a woman's boudoir, as well as various comps with decoupage.
Samples
Give your clients the opportunity to try various fragrances from your perfumery. In vaza.gr there are mini bottles, suitable for testers, in a variety of colors and shapes, for both women and men. You can suggest new perfumes to your clients, by gifting them a sample in every perfume purchase.
Air fresheners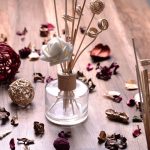 In vaza.gr you can find air freshener bottles for the car, your personal or professional space. Expand your services by suggesting air fresheners with your perfumes to your clients.
Perfume sprays and bulb sprays
For every perfume bottle in vaza.gr, you will find a plastic or aluminum spray with a cap or an elegant bulb spray. You could also give the opportunity to your clients to choose their favorite combination of perfume bottle and spray. For a better leak safety, you can choose the crimp bottles, that don't open and cannot be refilled.
Packages and gift boxes

It is often that your clients seek the perfect perfume to give as a gift to their love-ones. Get one step ahead, by offering them the chance to combine the perfume bottle with an elegant package or a gift box that you can find in vaza.gr. You may also suggest a crystal bottle, creating a more elegant gift.